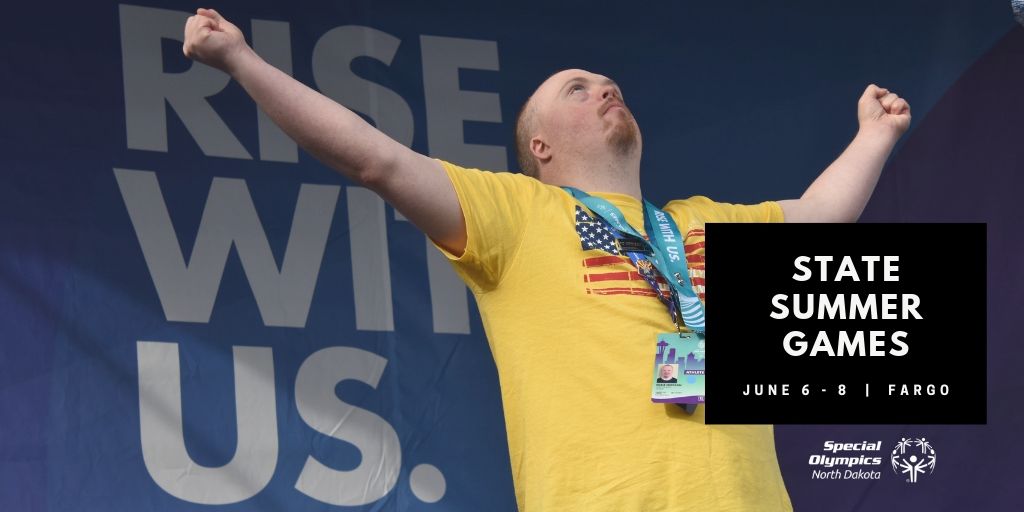 For the 22nd consecutive year, the city of Fargo will serve as host of the Special Olympics North Dakota (SOND) State Summer Games. The event runs from June 6 – 8, 2019 and this year's theme is "RISE WITH US." Participants will be competing in the sports of Athletics (Track & Field), Swimming, Flag Football, Bocce, Powerlifting, and Volleyball. Additional Special Events for participants include an Opening Ceremony & Parade of Athletes, Community Celebration, Healthy Athlete screenings, Olympic Town activities, and athlete Victory Dance.
---
Volunteer Opportunities
Games Organizing Committee in more than 10 categories
Sport Specific volunteer opportunities
Facilities
Meals
Escorts
Olympic Town
Medical
Security/crowd control
Signage
Photography
Marketing/PR/Promos
Awards
Hospitality
Day-of-Event volunteer opportunities at all venues
Fans in the Stands
Ceremonies and much more!



Sign-Up To Get Involved with Summer Games
We are in need of volunteers to help at various venues in Fargo on June 6th, 7th and 8th. Opportunities exist for a few hours or for an entire day. Click the links below to see all volunteer slots available for each day and sign-up to help!
Online volunteer registration has now closed. To volunteer, please come to our event and we will have opportunities for you or your group to help out!



Fans in the Stands
You can also volunteer as a business, club, family, or even as an individual to cheer on athletes as part of the Fans in the Stands program. You can go every day or just pick an hour or two that works into your schedule. Click here for more information. To sign-up to be a "Fan in the Stands," click the button below.
---
Calendar of Events
Thursday, June 6th - (Fargo Civic Center, Broadway)
Flag Football Competition (Unified Champion Schools)
Law Enforcement Torch Run for Special Olympics
Community Celebration
Opening Ceremony & Parade of Athletes
Friday, June 7th - (Fargo Davies, Shanley High School)
Swimming Competition
Bocce Competition
Powerlifting Competition
Volleyball Competition
Olympic Town Activities
Healthy Athlete Screenings
Awards Ceremonies
Saturday, June 8th - (Fargo South High School)
Athletics (Track & Field Competition)
Olympic Town Activities
Awards Ceremonies
Closing Ceremony
+ Add Summer Games to my calendar
---
Thank you to our 2019 Premier and Gold Level Sponsors!
Sanford Health

Kiwanis International

Knights of Columbus

Sammons Financial Group

SpartanNash