The "Flame of Hope"
Year round, more than 500 LETR® volunteers, including law enforcement officers from local, county, state and federal agencies across North Dakota promote the concept of partnership and prosperity as guardians for the "Flame of Hope".  This "Flame of Hope" ignites the hope and brightens the lives of the more than 1,400 children and adults with intellectual disabilities that participate in Special Olympics North Dakota (SOND).  The torch carried across the North Dakota in May by law enforcement runners is a demonstration of their guardianship, and raises awareness of Special Olympics and the achievements of our champions.
The Torch Run consists of a series of local runs that take place across the state during the week preceding the SOND State Summer Games.  The Torch Run will kick off in Bismarck at the State Capital and culminates with the arrival of the torch at the State Summer Games Opening Ceremony.
Supporting the LETR® shows the community that you support our law enforcement heroes and care about our friends and neighbors who participate in Special Olympics.
---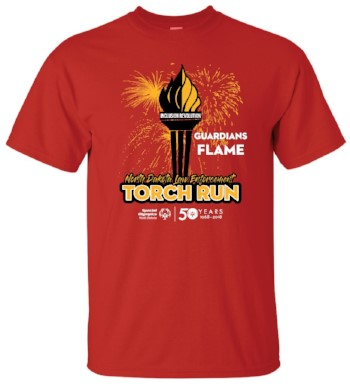 2018 Torch Run Information
2018 Law Enforcement Torch Run will feature promotional runs in seven communities between June 5-7th! To register for your local Torch Run, simply fill out the following form or reach out to one of the contacts below. Note: To participate in a local Torch Run, participants must sign a waiver and wear this year's shirt.
Torch Run Contacts