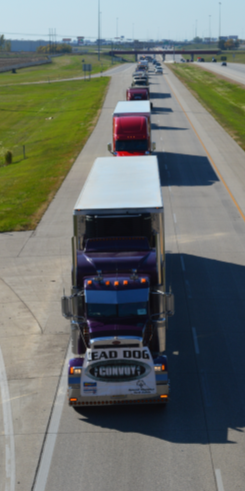 2021 Truck Convoy Photo Gallery
Online Registration:
Thank you to our 2023 Title Sponsor:

 The Truck Convoy is Saturday, September 30th, 2023 at the Red River Valley Fairgrounds! 
Truck Convoy for Special Olympics is a national celebration of the trucking industry, its allied partners, and law enforcement all working together to help raise money for Special Olympics.  Law Enforcement will escort trucks on the 18-mile convoy route through Cass County and West Fargo, beginning and ending at Red River Valley Fairgrounds in West Fargo.
The Law Enforcement Torch Run (LETR) for Special Olympics North Dakota is a volunteer movement established to increase awareness of and raise funds for Special Olympics. By participating in the Truck Convoy, you help Special Olympics North Dakota reach more people, and help our athletes reveal they are champions to the world!
In 2016, a total of 85 trucks participated making it the most participation in the history of the North Dakota Truck Convoy!  Please help us reach our 2023 goal of 100 trucks in the Truck Convoy, and help even more Special Olympics athletes across North Dakota!
Trucks welcome in the Convoy include semi-Trucks, truck/trailer combinations, large trucks, low-boys, dump trucks, flat beds, buses, large tow trucks, large box trucks, fire trucks, etc. All trucks entering the Convoy must be of 10,001 GVWR or larger. Hazardous materials or trucks with alcohol/tobacco names are not permitted to participate.
All participants will need to show proof of a valid CDL license and proof of insurance with at least $1,000,000 combined single limit (CSL). All drivers and passengers are required to sign a release of liability waiver which must be presented at driver registration on the day of the event, prior to receiving your goody bag. 
---
Thank you to our 2022 GOLD Sponsors!
[YOUR LOGO COULD GO HERE!]
Give us a call to learn about sponsorship opportunities!