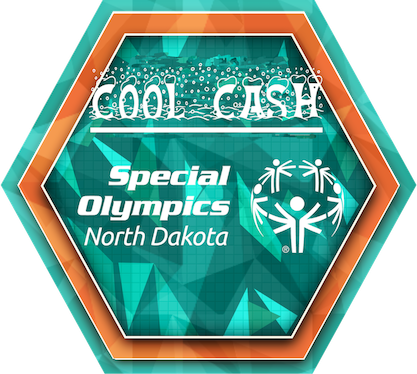 The Cool Cash raffle is a "Calendar Raffle". The raffle runs at the end of every calendar year. During that time, $200 will be given away every weekday (Monday-Friday), and $500 will be given away on weekend days (Saturday-Sunday).  Raffle winners will be listed on our website daily, except over weekends, when they will be added the following Monday.
The Cool Cash raffle is one way the Law Enforcement Torch Run (LETR) helps to raise money for Special Olympics North Dakota. Thank you to everyone who sold or bought tickets. You help make our program successful in serving athletes with intellectual disabilities!
---
The 2019 raffle will ran from Friday, November 29th - Saturday, December 21st.
Winners will be drawn at noon each day, with the results posted on this page shortly after. On weekends, the winners will be posted the following Monday. Tickets are $10 and may be purchased by calling Special Olympics North Dakota at (701) 746-0331.
Be advised: Ticket may win more than once! Need not be present to win. Purchase of Ticket is not a charitable contribution to Dickinson Charities, 1173 3rd Ave W, Suite 36, Dickinson, ND.
2019 Raffle Winners:
12/21 Henry Morris, Minot, ND $500.00
12/20 Odie Wanner, Dickinson, ND $200.00
12/19 Kirt Laducer, Bismarck, ND $200.00
12/18 Rachel Green, West Fargo, ND $200.00
12/17 Robert Zimpel, Keene, ND $200.00
12/16 Mason Chiff, Dickinson, ND $200.00
12/15 Sheila Faul, McClusky, ND $500.00
12/14 Leon Kristianson, Dickinson, ND $500.00
12/13 Jordan Brandvik, Dickinson, ND $200.00
12/12 Sheri Schrock, Harwood, ND $200.00
12/11 Leslie Cameron, Wahpeton, ND $200.00
12/10 Kevin Burns, Dickinson, ND $200.00
12/09 Joy Smith, Minot, ND $200.00
12/08 Becky Navratil, Rothsay, MN $500.00
12/07 Sherri Gleason, Grand Forks, ND $500.00.
12/06 Melissa Mahin, Jamestown, ND $200.00
12/05 Diane C. Cuskelly, Killdeer, ND $200.00
12/04 Emily Fossen, Grand Forks, ND $200.00
12/03 Scott Roth, $200.00
12/02 Justin Racine, Minot, ND $200.00
12/01 Kristi Walker, Shakopee, MN $500.00
11/30 Arel Dokken, Richardton, ND $500.00
11/29 Kevin Braun, Dickinson, ND $200.00