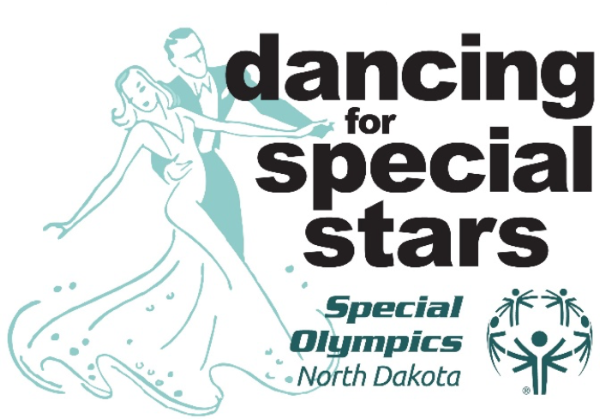 "Dancing for Special Stars" is a dance contest patterned after the hit television program "Dancing with the Stars." This event is a fundraiser for Special Olympics North Dakota (SOND) held in Grand Forks in April and Minot in October and will feature area celebrities paired with local dance instructors.  Each couple performs a dance of their choice. The dance team with most votes (from donations, audience votes from tickets received with admission ticket-30 points, judges' scores) wins the competition.  Audience members can also buy additional points at the event for $1 per point to go to their favorite dance couple(s).
---
Grand Forks Event:
The 13th Annual Dancing for Special Stars in Grand Forks will be held at the Empire Arts Center on April 18 at 7:00pm.
Call us at (701) 746-0331 to make a donation.
Celebrity dancers and their dance instructor partners include:
            Tom Campbell and Jill Kadrmas
            Adam Helgeson and Taylor Vasek
            Kamrin Macki and Franklin Wickstrom
            Anthony Miller and Adelyn Emter
            Carson Muth and Michala Hodnefield
            Ben Quanrud and Alexandra Quanrud
            Anna Rosburg and Jurie Visagie
            Ryan Wall and Alicia Bullinger
Sponsored By:
AMERICAN CRYSTAL SUGAR COMPANY · BORDER STATES ELECTRIC · CORE ENDODONTICS · HOPE THERAPY · HUGO'S FAMILY MARKETPLACE · NORTHRIDGE CONSTRUCTION · RED RIVER ENDODONTICS PC · RJ ZAVORAL & SONS INC.
Brady Martz and Associates · Butler Machinery Company · Camrud Maddock Olson & Larson Ltd · Choice Financial Group · Dahlstrom Motors · Edward Jones Investments-Justin Johnson · First International Bank & Trust · Gudajtes Family Farm · ICON Architects · Korsmo Family Dentistry PC · Little Miracles · McFarlane, Inc. · Northern Plains Rail Services · Northern Plains Track, Inc. · Premier Equipment · Rydell Auto Center Inc. · True North Equipment · TruStone Wealth Management · United Valley Bank · Valley Oral and Facial Surgery · Vei Global · Waterfront Kitchen & Bath
Alerus · Alerus Center · Altru Health System · Badger Dental Group · BeMobile Verizon · Bonzer's Pub · Bremer Bank · Brian & Chilly Goodman · Bully Brew Coffee · Channel Seed-Newman Seed · CHS Agronomy  Crary Real Estate · Dakota Commercial · Deek's Pizza · DeMers Dental · DL Jones Construction Services, Inc. First State Bank · Gowan Construction Inc. · Happy Harry's Bottle Shops · Heyer Engineering · Holistic Hub/Thermography & Health Solutions LLC · iconHD · ICS, Inc. · John Miller Farms Inc. · Knights of Columbus Holy Family Council 7126 · Lunseth Plumbing & Heating Co. · Minnkota Power Cooperative, Inc. · Modern Auto Body Inc. · Nodak Insurance Co.-Josh Peterka · Norby's Work Perks · Pepper Entertainment Foundation · Plains Chiropractic & Acupuncture PC · Professional Bull Riders LLC · Rumors Sports Bar & Grill · Thunderbird Entertainment/Toughest Monster Truck Tour ·Toasted Frog · Total Skin Dermatology & Aesthetics Valley Petroleum Equipment Inc. · Valley Vision Clinic Ltd. · Wald Farms · Walsh County Mutual Insurance Co. · Wintrust Mortgage
---
---
Minot Event:
The dancers for the 7th Annual Dancing for Special Stars (Minot) were:
List of Dancers: