Ten-pin Bowling commonly called "Bowling" in the US, is a competitive sport in which a player (the "bowler") rolls a bowling ball down a wooden or synthetic lane with the objective of scoring points by knocking down as many pins as possible. 

Although Bowling does not belong to the Olympic sports, it is among the most popular sports in Special Olympics. It is a particularly beneficial sport to people with intellectual disabilities, irrespective of their age or sports abilities, since it ensures physical exercise and at the same time participation and social integration. Plus, it's great fun!
Click here to view the 2020 Virtual State Bowling Tournament Program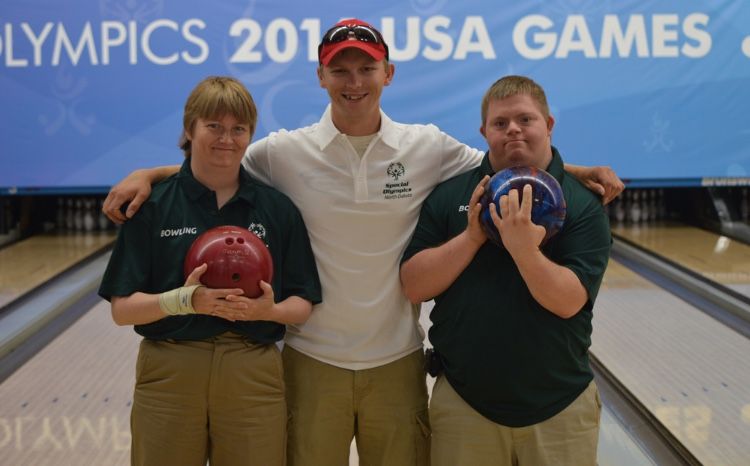 ---
Upcoming Bowling Events
Virtual State Bowling will be Nov 6 & 7.  Please check with your area directors for more information. 
Registration for Bowling season is Closed for this year.
Bowling Schedules
Fargo-
Yvonne Hummel-701-730-0926; sondcasscounty@gmail.com
Sunset Lanes-Moorhead-Sundays-1-3 
 West Acres Bowl-Fargo-Sundays-1-3 & 3:30-5:30
Grand Forks-
Tim Baumann-701-772-8626; area5sond@hotmail.com
Red Ray Lanes-Saturday 9-10
Minot-
Renee Dufner-701-240-1719; minot@specialolympicsnd.org
Monday-1-5 and Thursday at 6:00 pm 
Dickinson-
Ken Stockert-701-290-8840k; area12so@yahoo.com
 Sundays-1-3 and Tuesdays-4-6
Mandan-
Tonya Jans-mandan@specialolympicsnd.org
Sunday, Oct. 3, 10, 17; area tournament on Oct 24
---
Get Involved with Bowling
---
Coaches Guide and Rules
---
Coaches Quizzes