Law Enforcement Torch Run® for Special Olympics (LETR)
LETR is year-round awareness and fundraising opportunities by law enforcement personnel for Special Olympics.
LETR T-Shirt Sales: Each year t-shirts are sold across the state by law enforcement.  The logos of sponsors that support the LETR are displayed on the t-shirts.    (Spring)
Polar Plunge: The Polar plunge allows individuals, businesses and organizations to support local Special Olympics athletes by diving into freezing cold waters. Currently there are Polar Plunges in: Bismarck, Dickinson, Fargo, Grand Forks, Jamestown, and Minot. (Winter).
Raffle: LETR organizes a "Cool Cash" Raffle to benefit Special Olympics. Law enforcement assists in the distribution and sale of raffle tickets statewide. (Fall-Winter).
Tip-A-Cop: "Serve and Protect" takes on a whole new meaning as local law enforcement officers volunteer their time to serve food at local restaurants (Applebee's, Texas Roadhouse, Red Lobster and more), collecting "tips" and donations for Special Olympics. (Various restaurants year-round). 
Law Enforcement Torch Run: Law enforcement teams statewide hit the road by running to raise awareness and money for Special Olympics North Dakota (SOND).
Truck Convoy: The World's Largest Truck Convoy® (WLTC) for Special Olympics is an annual event which unites law enforcement and truckers to raise money and awareness for Special Olympics athletes. (September)
VIP/Opening Ceremonies: The ceremonial culmination of the LETR occurs with the arrival of the torch at the Opening Ceremonies of the SOND Summer Games. Supporters of Special Olympics are invited to and honored at the VIP Social and Opening Ceremonies. (May-June).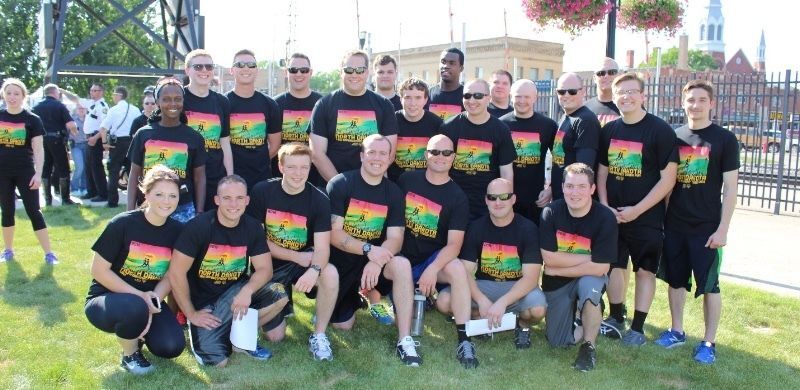 Upcoming Events: