What is the Fitness Challenge?
The Special Olympics North Dakota Fitness Challenge was created to bring out the best in athletes and partners. This flexible eight-week challenge begins February 1st and the deadline to submit final scores is March 31st. During this challenge, athletes will pick three out of six possible exercises to compete in. Throughout the course of the program, they will practice those exercises to get better at them. At the end of the challenge, prizes may be awarded to athletes who show the most improvement.
Why is the Fitness Challenge Important?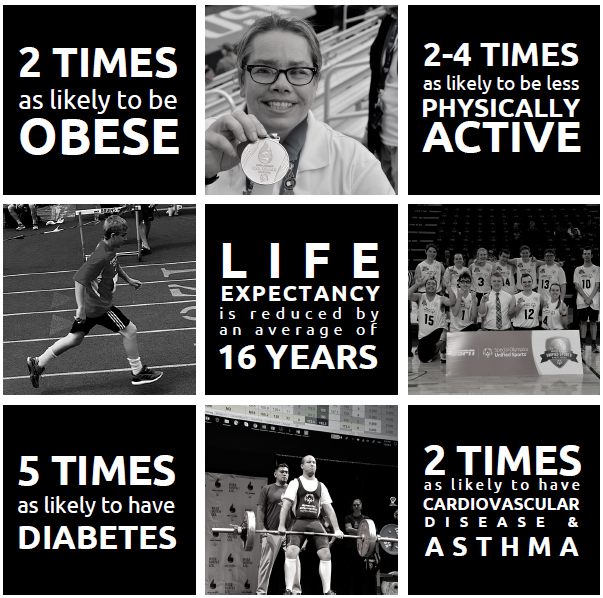 6.5 million people in the United States have an intellectual disability. Through sports, health, and fitness, we can change these statistics for people who have an intellectual disability and become a stronger, healthier, and more unified community.
What is the timeline for this event?
Important dates to remember:
Season Starts: February 1
Pick your 3 exercises and record your Week 1 scores: February 1-6
Deadline to submit your Week 1 scores: February 6
Record your Week 4 scores: February 21-27
Deadline to submit your Week 4 scores (optional): February 28
Record your Week 8 scores: March 21-27
Deadline to submit your scoresheet: March 31
How do I submit my scores for the Fitness Challenge? 
You can download or print a copy of the scoresheet for the Fitness Challenge by clicking below. Make sure you send a printed or electronic copy of your scoresheet to our office by the end of Week 1 (February 6th) and at the end of the challenge (March 31st). Our email address is info@specialolympicsnd.org and our mailing address is 2616 S 26th St Grand Forks, ND 58201. Let us know if you need help submitting your scores.
What if I would like to compete in this challenge with my UCS partner?
You are welcome to compete in this challenge with a partner! Just submit the UCS Sign-up Sheet by February 22nd (multiple pairs can register using the same document). 
How can I do my best in the Fitness Challenge?
The best way to improve your scores is to practice! Find a training schedule that works for you and stick to it. It is also important to do other exercises as well. School of Strength and Fit 5 are great resources to improve your overall health.
You can also watch great workout videos from Anytime Fitness on Facebook or Youtube.
How can I stay up-to-date and connect with other athletes in the Fitness Challenge?
We encourage all registered athletes to join the SOND Community Group on Facebook. It is a great way to hear from other athletes!
What if I am not a registered athlete or my medical forms are out of date?
SOND requires that all participants in this event are athletes with medical information on hand. If your medical expires February 1-March 28 or you only wish to participate in the Fitness Challenge and not become a registered SOND athlete, you must fill out the Medical Extension form and submit it to our office before you can participate. Click the button below to download any forms you may need. Volunteers/Unified Partners can find required forms here as well.