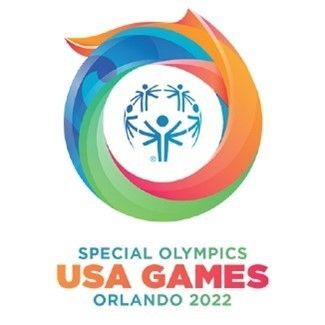 The Special Olympics USA Games provide a stage to showcase the abilities of Special Olympics athletes—both on and off the playing field. These events also showcase signature initiatives of Special Olympics such as Unified Sports, Healthy Athletes, Athlete Leadership Programs, and provide life-transforming experiences for volunteers and spectators who participate in or view the USA Games.
The 2022 USA Games will be held in Orlando Florida June 5-12. The USA Games will unite more than 5,500 athletes and coaches from all 50 states and the Caribbean and 125,000 spectators during one of the country's most cherished sporting events.
SOND Athlete Nomination:
Selected athletes must demonstrate good sportsmanship and the ability to function well as a part of a team. The athlete is not only dedicated to their sport but is also able to commit extra time to train, travel to training sessions, and be involved in other USA Games activities as determined by their coach.
Sports/quota for Special Olympics ND athletes:
Athletics- 2 females and 2 males;
Bowling- 2 females;
Powerlifting-2 males;
Swimming- 2 females;
One Male Basketball team of 10;
One Co-ed Intercollegiate Unified Flag Football team of 10 (will be comprised of one college team)
For selection criteria, nomination form, and other athlete responsibilities, please email info@specialolympicsnd.org.
Coach Nomination:
To represent Special Olympics North Dakota at a national-level competition should be considered an extreme honor. As such, this opportunity is best suited for those who meet the following criteria:
Age 18 or older;
Certified Coach as per SOND policy for the sport;
Committed to the mission of Special Olympics;
Organized, professional, good sportsmanship;
Available spots for SOND Coaches: 
Athletics- 2 coaches;
Bowling- 1 coach;
Swimming- 1 coach;
Powerlifting- 1 coach;
Basketball- 2-3 coaches (one of which will be a Special Olympics athlete);
Unified Intercollegiate Flag Football - Coaches will accompany Unified Team selected.
For selection criteria, nomination form, and other coach responsibilities, please email info@specialolympicsnd.org.