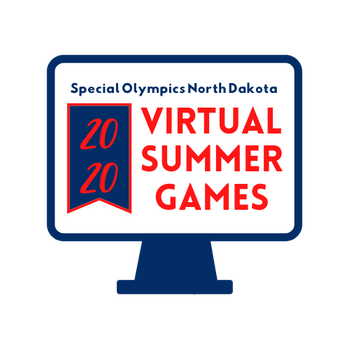 How many events can I compete in?
Track and Field - Maximum of 3 events
Strength - Maximum of 2 events
Visit the Events page to learn more about each event.
Who can compete?
The Virtual Summer Games are open to North Dakota residents aged 8 or older. You can compete as an athlete or Unified Partner, but you do not need to be currently registered with SOND to compete.
I have athletes/partners who don't have access to the internet or a computer. Can they still compete?
Yes! If you're willing and able to do so safely, please get this printable version of the program (PDF) to your athletes so they can participate and record their results without needing internet or computer access. Print one copy per athlete. After they have competed and recorded their results, you can retrieve and submit their results for them using the online form. Doing this for your athletes would be going above and beyond. Please only do this if you are able to deliver and retrieve the papers safely. Participants can also send their final results to our office at 2616 S 26th St Grand Foks, North Dakota 58201 or fax them to us at (701) 772-1265. This form only needs to be filled out if participants cannot submit their results electronically.
Can I still compete If I don't normally compete in the Summer Games?
Yes! This event is open to any North Dakota resident aged 8 or older who is interested in participating as an athlete or Unified Partner, whether or not they have been involved with Special Olympics before. If you usually compete in a different event (such as volleyball or swimming), you are still welcome to compete in the Virtual Summer Games.
Do I need to fill out any athlete or Unified Partner Paperwork to participate?
Paperwork is not required to participate, but individuals under the age of 18 must have approval from a parent/guardian.
Who am I competing against?
You're competing against everyone in the state during the practice season. We'll division everyone based on their role as an athlete or Unified Partner as well as their age and results. A modified awards ceremony will be ready on June 11th.
How do I practice?
Our top priority is that everyone is safe and maintains social distancing rules while practicing. Practice outside at home or in a space that still allows you to follow social distancing rules (you must be six feet away from other individuals). Take a look at our home page to review additional safety information.
Do I need equipment to practice?
All of our events require little to no equipment. Please don't go out to the store and purchase equipment. Use what you have and don't be afraid to get creative!
Does my coach need to know I'm competing?
No, but it would be great if you let them know—they might like to cheer you on virtually! You can also invite them to compete!
What scores do I need to record during the practice season?
Please keep track of your practice scores. Visit the Events pages to see what specific scores to track for each activity and how to submit them from home. Please only submit the best scores for each activity you participated in at the end of the practice season.
Will I be disqualified if I don't run the exact distance for a track event?
No, we understand that everyone is doing their best and everyone's at home event set up is different than others.  We are more interested in everyone participating and giving their honest effort and attempt.  The priority is participation and not disqualification.
How do I submit my results?
You can submit your results online here. If you filled out a paper copy, please send them to our office at 2616 S 26th St Grand Foks, North Dakota 58201 or fax them to us at (701) 772-1265. 
Will I get an award?
Yes! A digital award will be emailed to the 1st, 2nd, and 3rd place participants at the end of the Virtual Summer Games.
How can I watch the Virtual Summer Games video?
The link will be posted on SOND's website and Facebook page on June 11th.
What if I have additional questions?